"Brother, however I have wronged you, whatever I have done that has led you to do this, I am truly sorry. But these people are innocent, taking their lives will gain you nothing. So take mine, and end this."
―Thor approaching the Destroyer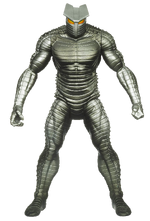 The Destroyer was a giant humanoid construct that served as a weapon and servant to the King of Asgard, and the guardian of the weapons vault of Asgard.
During Odin's reign as King, he deployed the Destroyer to kill three Frost Giants who had infiltrated Asgard. After Odin went into a coma and Loki named himself King, he sent the Destroyer to Earth to kill his adoptive brother Thor and his friends Sif and the Warriors Three.
The Destroyer managed to do severe damage to the area his targets were hiding in, but was ultimately defeated.[1] His body was later retrieved by S.H.I.E.L.D. and experimented upon in a high security lab.[2]
References
Edit