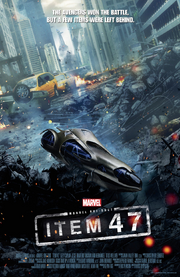 Item 47 is the third direct-to-DVD Marvel One-Shot short film released by Marvel Studios. It was released on The Avengers Blu-ray on August 29, 2012. It was directed by Marvel Studios co-president Louis D'Esposito and written by Eric Pearson.
Benny and Claire, a down-on-their-luck couple, find a discarded Chitauri gun, which is referred to as "Item 47," and decide to rob a few banks with it. Two S.H.I.E.L.D. agents, Jasper Sitwell and Agent Blake, are assigned to catch them. Sitwell tracked the couple in a motel, where they were staying after robbing enough money to lead the rest of their of lives without working. A confrontation between the S.H.I.E.L.D. agent and the couple took place, resulting in the motel room being wrecked, and all the stolen money blown to pieces. Impressed by how Benny modded the 'dead' Chitauri gun to work, Sitwell invited the couple to join S.H.I.E.L.D. instead of putting them in jail. Benny was assigned to the R&D 'think-tank' to reverse engineer the other Chitauri technologies, and Claire becoming Blake's assistant, much to Blake's astonishment.
Community content is available under
CC-BY-SA
unless otherwise noted.