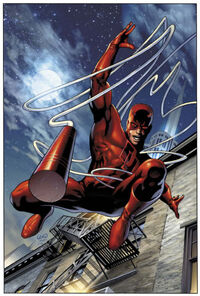 With 20th Century Fox having recently lost their director to helm their upcoming Daredevil reboot, it doesn't seem like the film will be in production any time soon. Fox's contract with Marvel for ownership of the rights to Daredevil and co. is also running out soon, with an expiry date on October 10, 2012.
Both 20th Century Fox and Marvel Studios realize this, which is why Disney/Marvel proposed a deal with Fox to obtain the rights to several characters from their Fantastic Four universe, including Galactus and Silver Surfer, in exchange for more production time for Daredevil (in which case, Daredevil would likely return to Marvel anyways after this additional time has expired).
With Thor and The Avengers released, and Thor: The Dark World and Guardians of the Galaxy upcoming, Marvel is deeply exploring the cosmic side of their universe on the big screen, and Galactus and Silver Surfer are very important parts of this part of the Marvel Universe. Marvel requesting these specific questions is not surprising.
Fox has initially refused their offer, however, saying that their Fantastic Four reboot is a priority for them and that they aren't willing to give away an important villain such as Galactus. They are instead willing to let the Daredevil rights revert back to Marvel, even though they are in negotiations to have Joe Carnahan direct the reboot.
What do you think of this? Do you think this would be a smart move? What would you most like to see happen?
Source
Community content is available under
CC-BY-SA
unless otherwise noted.